Hello all hope everyone's doing well. Blogging after a reasonably long time, this time something unconventional and beyond my forte. I have been very interested in Economics, Finances, Capital and other Entrepreneurial matters, as I am an aspiring Entrepreneur and will be one in real-time in a month or two when I start my own Web Development Company. I have also been closely following experts, columnists and panellists who write on Entrepreneurial subjects, one of them being my uncle Sunil Gandhi, a veteran Chartered Accountant on his blog Anekant. He mainly writes on "Customer Experience"- in simpler words, a methodology for entrepreneurs to give your customers a better service. I as a small scale Entrepreneur too had believed in this concept and hence had been reading his literature often. But the recent fiscal fiasco, in which Kingfisher Airlines disembarked, left me shaken. I present my perspective on the issue here:
                I haven't been a frequent flyer by air to judge airlines on each and every detail, but yes I have travelled by air enough number of times and in variety of airlines to pass a personal verdict as to which is better and which isn't. Of all the airlines I've travelled so far (I've travelled in Jet Airways, Air Deccan (Now a part of Jet Airways), Jetlite, Spicejet, IndiGo and last but not the least KingFisher). Of all, my senses were captivated by just one- KingFisher. The reason being, it's Customer Experience. After you disembark a Kingfisher's aircraft, you feel like you've been to some King's Palace where you were served like King's Royal guests with all amenities possible. There are several aspects in Kingfisher's service which leave you just spellbound. In the next paragraph I will aim to jot down one by one.
                I begin my customer experience with ground services. First thing which grapples your attention will be kingfisher's graphical design. It uses Red as its theme colour. On the airport you find red bagging counters with red-dressed support staff (males and females both, fairly good looking), red billboards, red baggage tags and almost everything red. Now the thing to observe is this red isn't eye-disturbing or gaudy. It's mild and good. To my opinion this red design overall is capable to seduce an impotent person. (Might be an overstatement, but apt to describe the awesomely designed Kingfisher campaign). You've announcements and everything happening on time. You've support executives after check-in (even for economy class customers) to escort you to the final check-in from where you proceed towards the runway. After the final check-in, you see an awesome white-red coloured bus waiting for you to escort you to your aircraft. Now what is special about this bus? Again red! Yes, the bus is awesomely designed, with lavish red couches (yes you have puffed and smooth couches in the bus unlike those cheap airlines with Bakelite polymer seats). The bus is air-conditioned (something which even Jet Airways doesn't manage to provide even after looting customers). And yes won't forget to mention, the bus driver too is dressed in red. This bus then swiftly takes you to your aircraft. (You don't feeling like getting off this awesome bus.)
                Talking about the on-board services now. You don't have to wait down for the dummy staircase to arrive before the aircraft. It's already there! (Mentioning it explicitly because I know some shitty airlines with unbearable level of mismanagement who keep their guests stranded on the runway waiting for the staircase to arrive to board the aircraft). Then as soon as the last step on the staircase disappears, you have two too beautiful (and yeah unusually sexy too from a guy's perspective) airhostesses welcoming and greeting you. What a marvellous start to a journey! (This too is a part of WOWing your customer. Though it targets the male senses, but who cares? Profit, Profit and Profit is what an entrepreneur wants). Then you have some welcome drinks and water bottles given to you immediately as you seat. Won't forget to cite that beautiful airhostesses personally assist you in fastening up the seat beat. (That sounds cheap, but who cares? Remember Profit and Customer Experience!) You also have the airhosts (Yes red-dressed males too to WOW the females, Mallya doesn't leave a stone unturned) and airhostesses assisting you to keep your luggage up in the luggage boxes without you asking them to do so.  Then the ambience of the aircraft, I bet no other airlines have such aircrafts, at least not the domestic ones. You feel almost in heaven when you're in the aircraft. You see the smoke/air (I don't know what thing it was) coming up from the windows inside which give you a heavenly feeling. And I would explicitly cite that the aircraft is well air-conditioned in advanced making sure that you do not sweat for a second even after being on-board. (I remember my experience in Air Deccan; bloody jerks didn't start the AC till the aircraft was on the verge of taking off. Misers! ) I have a pic here to show the awesome interiors in Kingfisher's fleet: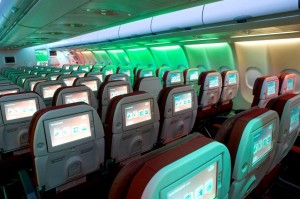 Also one of the best part of the on-board services in Kingfisher is the awesome cabin crew (Hey, Hey both males and females). Your eyes do feel pleasant seeing faces around at least for the time till you're on the aircraft. Lolz! (Had to mention because there are Airlines like Air India who hire people with "Dijvijay" faces as Air Hostesses. Awful! ) Then one of the most exclusive features which separates Kingfisher's experience from the rest is it's On-board Entertainment System. You've small Television screen behind each seat not making your travel demure. The TV is preloaded with short movies, videos, news, interviews, songs, etc. (There's always content related to Deepika Padukone, partial Mallya, but who cares? – Customer Experience). To augment audio pertaining to the videos, you have a kit exclusively given to you containing brand new headphones, a pen (For any crap you wish to write during the flight) and some rough stationary, in case you're some Ruskin Bond.) And yes, won't forget to mention, this kit is brand new, given to each guests and yes to Gujju Bhais reading this, this is your property you can take it home. I have some 4-5 such kits @ my place. Ha-ha. The television also has the facility to show you the current height the aircraft is at, the speed of the aircraft, the temperature outside the aircraft, all this to add thrill to the journey at high. (No other domestic airlines, even looting ones like Jet Airways provide such features on-board to economy class customers). Then comes the main part- Gourmet Services (Sada Shabdo ma: FOOD). That too complimentary! (Other misers ask you to order it explicitly and pay for it). The food quality is A+ Grade. Any cuisine, be it Indian or Continental tastes too delicious. (The gourmet Sandwich in Ahmedabad-Delhi flight tasted as good as the Rajma Chawal during Delhi-Bagdogra flight) For a foodie like me, this defines Wow Customer Experience.
Lastly, before the flight's landing you've air-hostesses coming to you individually and asking for your feedback. (Is this feedback taken seriously? Yes it is, see the end of this blog post). When you descend from the aircraft, you've the airhostesses again greeting you and thanking you for availing Kingfisher's services. I remember my experience. I was so overwhelmed that I thanked the air-hostesses instead, that too twice or thrice to which I was given an awesome smile and "our pleasure sir" in return. Then once you're on the ground, there is again a Kingfisher coach waiting ready for you to escort you to the airport terminals. And point to be noted my lord; they don't fill up people inside the coach as a herd of cows and goats. There are some 5-6 coaches present; each one of them accommodates only that amount of guests which can be comfortably seated on the lavish red couches inside. (Misers like Spicejet and IndiGo shall take some lessons). There is no hassle at the bagging rotator. Each and every baggage is systematically delivered without any misplacement. I haven't heard a story till date of some baggage misplaced/lost from a Kingfisher flight. Overall, you get a lifetime experience, totally enchanting. (Please note, all the services I mentioned are provided in the Economy Class. Imagine the treatment in Business Class then! )
Coming to the Entrepreneur's perspective now. From my above description, you might have been convinced by the fact that kingfisher provides a reasonably WOW Customer Experience. Now let's see what it got in return. Just and just losses. (And yes, unaccountable sarcasm from Faking News. Check this: http://www.fakingnews.com/2011/11/mallya-announces-austerity-drive-deepika-will-travel-in-gareeb-rath/) Let me mention some stats here. To your astonishment, want to tell you that Kingfisher hasn't ever made a profit since it got listed! It made 1070 crores of loss during 2010-2011. It owes 200+ crores to Oil companies for fuel. And a lot more. Now let's compare Kingfisher and Jet Airways. Both have almost the same rates for Economy class travel. On one hand where Jet Airways acts like a yet another airline with hardly any customer experience even after looting the people, Kingfisher on the other hand provides awesome services, with real value for money and an unforgettable customer experience. Now, if just loss is the fate of providing a WOW Customer Experience to the audience, why would an entrepreneur want to do that?
To provide a Wow Customer Experience, it requires an Entrepreneur to go out of the box. Kingfisher's On-board entertainment, gourmet services are some out of the box ideas that constitute a WOW Experience for its customer. But this Wow Experience, rather designing any Wow Experience requires extra capital that too with no returns for their investment guaranteed. In Kingfisher's case it was loss, it might not be so in all cases. There might have been some mis-planning @ the Management level that led to such high losses, but it was not only mis-planning. Some other Airline (let's say Jet Airways) could design same level of Wow Experience with better planning, but it will have to compromise with its profits (It will still be in profits, but lesser in magnitude). The problem is the social structure our country has. The main of customer experience is increasing the customer base. For airlines this doesn't happen so. Instead of Air Travellers increasing, the rate has sharply fallen in the last 5 years, the figures say. The bread-hungry Indian mass doesn't require any Wow Experience, it has learnt just compromising since ages and will continue to practice so in the coming time too. I don't say that the Wow Experience doesn't impact the Indian Customer. It definitely does, but as an entrepreneur, I too want something in return for the Wow-Experience- more customers and referrals. But this somehow doesn't take place in the Indian mass. Just take your example. Even after reading this awesome article of mine about Kingfisher, will you prefer Kingfisher for your next air travel? Definitely not. You still prefer saving your bucks (compromising with Customer Experience) and commuting in IndiGo and Spicejet.
This was my perspective about Kingfisher's case. It might necessarily not be correct. But I feel too strong about this awesome Air Carrier and I felt a need to pen down the awesome experience I had when it served me. And yes, the commerce part of the aspect- Customer Experience was inspired by my fua. Hope you all enjoyed reading this piece.
P.S. Love Red Love Kingfisher.
Love & Regards,
Anish.