Hello Friends, hope you all have enjoyed reading the Four Parts of Birth of  a Planet- Planet RTW. Also, let me remind you, if you haven't read my friend and Guest Author on the blog- Prathmesh's Poem-Birthday Castle which is just a post before this, do find some time to read it. Am sure you would like his compositions.
Well, this blogpost is an article which I have recently written, its titled – The You in Yourself. It's gonna be published in the December Issue of the newspaper The School Post. For the first time am posting an article on the blog before it is published in the newspaper. Do give your comments and feedbacks about it. Here I go:
---
The You in Yourself
-Anish Desai
If someone were to ask you your name,what would you answer? You would say it, of course, but deepdown, do you wish you were someone else? I think many of the teenagers tend to forget who they really are. We spend a lot oftime trying to be Miss or Mr. Popular. If not that, then the rest of the lot, would say I am so and so, I have my own style and then start digging about the popular guys and gals in the school/college.
If you were in a party or a social gathering, would you see 50 percent of the people wearing the same pattern clothes in different colors? For example, you would see most of the guys putting on a shirt with a tshirt inside(yes people wear both a shirt and a tshirt, even in the hot summer, they've the cheek to show off their fashion quotient) with their sleves folded up and buttoned over at the biceps. Same applies for the girls, you would find them with their hair straightened and wearing them the apperals in the latest buz. Many go out of their way to shop in the so called "cool"stores(Westside, Panataloons, Brand Factory, etc) and buy the latest trends, even if they hate the style. But it doesn't matter, right? Everyone else is wearing it, so I'm wearing it, that's how it goes these days. Ask yourself if you like the style.
If you answered no,wear what you like. Shop in the stores that are cool to you,not everyone else. If you like it, and it looks good on you,then buy it! Don't shy away from your likes and dislikes. Take a stand; wear that shirt you have been wanting to for months! The best role you can play, the best person you can immitate is YOU YOURSELF.
It is okay to spend time on our appearance, but do you try to impress others with your clothes? Beauty is in the eye of the beholder; in other words,it does not matter what clothes you wear or what brand of sneakers you buy. If people cannot appreciate you for you,they are not worth your time. True friends will see past the clothes and love you for you. Remember Prawess, Personality and Pride don't owe their existence to Fashion.
So the next time you go shopping, buy what looks great on you and makes you feel great. Don't buy that shirt because Mr Ranbir Kapoor had put it on in Wake up Sid or Mrs Aishwarya Rai Bacchan had put it on in Action Replay, buy it if you love it! And don't ever forget what your name is.
Though we are humans and not products, I believe each individual has his/her own USP(Unique Selling Point). You would find it more enchanting if you're complimented for your own attribute rather then you being complimented for copying anybody's attribute. Let me make it more clear, its more harmonious to hear "You're looking great today" rather than "You're looking like Rabir Kapoor today" or "You're looking as hot as Katrina today". I don't say it because I believe in this particular philosophy but I have gained this viewpoint from my memoirs. I remember when I was in 9th delivering an elocution speech on the stage, I came to know some girls at the back in the auditorium commenting "Anish looking sexy nahi."(Becky, do you remember which instance am talking about? I bet you do.). I wasn't looking any extraordinary that day. I was in the school uniform white full selved shirt(I believe its my style quotient), navy blue tie and navy blue pant. I know it was cheap, but like it feels great being complimented, for being your ownself.
I would like to cite one more example. My friend Aditya, he is a healthy guy with a considerably bulgy belly, but the way he deals with it, it has become his USP today. In today's health conscious world, people consider obesity a curse, but those who think this, shall meet Aditya once, I bet they will develop a feel good factor about their belly… I as his friend am proud to say that I have a friend who has his belly as big as Lord Ganesha's. Within a few months since 11th standard started, whenever we were excited or nervous or sad or whatever, we used to push our hand deep inside aditya's belly and get relieved from our anxiety. It's said that Lord Ganesha has his big belly to take away all problems and troubles and store in it. We didn't have Lord Ganesha in realtime, so we used to be contented by fondling Aditya's belly. And on the other hand, a generous Adi, wont mind that. Not because he couldn't help it, he could, but like he didnt want to, the reason being- he was enjoying being Aditya Agarwal himself. Adi, if you're reading this one, am proud of you & your philosophy in this regards….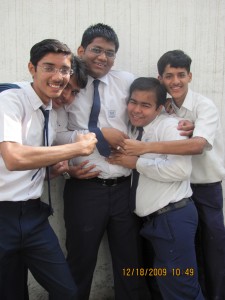 Remember this pic Adi?
The gist of the matter is being the YOU in YOURSELF.Be proud that God is the architect of your appearance and he has specially made you uniquely. So please retain your individuality. Retaining your individuality, remaining indigenously in this world full of peer pressure and brand mania is tough, but if you can sail through it, you will reach the bank with respect.
---
This was all, hope you liked the article. Do post your comments over it. Bye for now, also keep on checking I Belive That-Words to my Belief. The next blogpost is gonna be damn exciting for my Teenage Friends. I am gonna write about 143(I love You). Well Bye for now
Sayonaara,
Love & Regards,
Anish.