"TAFL – Theory of Automata & Formal Languages, also known as Theory of Computation. This is an important subject. The Head of our Department himself teaches the other part of the subject hence you can gauge it seriousness. Pay attention in the class, understand it here itself and you'll not need to study for it. Miss one lecture and you won't understand anything in the succeeding ones. So pay attention in this subject. Maximum people get REMs in this subject and it hampers them in 7th semester during placement and stuff. Moreover, people fail to score in 3rd sessional due to the extra-curricular activities in that period. At times the highest is 12 on 36 in 3rd sessional. So, try to pay attention and score the maximum you can in the first two sessionals." – The professor cautioned us for the subject as dreaded, infamous and jinxed as EG (Engineering Graphics) in Engineering.
As far as academics are concerned, seniors cry wolf for two subjects which are the most difficult (after ofcourse managing a girl) – EG (Engineering Graphics) and TAFL (Theory of Automata & Formal Languages). My seniors too had warned me of this subject, but I didn't pay much heed to it till it became a mammoth jeopardy in my life. It was 8th, December, 2012 – just when the much anticipated last even semester ON CAMPUS commenced – the 6th semester of B.TECH CE, which had TAFL as a feather in its circlet. 1st January, 2013 – the 1st Celebration of University Foundation Day for DDU was approaching us at a galloping pace. We were gearing up for crushing a World Record. Team Connect was in high spirits and we'd ample of work along with not ONE but TWO issues to make before 25th December – the English issue supplemented by a special Gujarati issue. With this animus, academics was something too beyond the boundaries of the radar to enchant our second mind even! I missed the introductory 2-3 lectures of the subject and that was enough to derail me… Beginning from PMI (Principle of Mathematic Induction) till Regular Expressions and Finite Automata everything went above my head in the class. I just went jotting down the stuff, scribbling little in the notebooks in the classroom (just because I had to) and looked at the PowerPoint slides perplexedly.
1st Amongst the Equals:
A month passed, the first internal exam lashed its attack on 7th Jan, 2013 with TAFL on 11th Jan. I was too drained in the first four papers to retain my reluctant zest for academics in the fifth one. Then I wasn't even subconsciously conscious of villainous nature of TAFL. I didn't study the previous night at all and submitted myself to goddess of slumber as early as 11pm (my usual sleeping time is 3-4am). Next day morning I got up and realized I was still virgin (and that was good ofcourse) and TAFL was going to fuck me soon! (Yes, I know that's a nice way to say 'I was unprepared'). I boarded the bus. Soon I learnt Gokhale too was sailing in the same boat. He offered me to accompany him at Ghoghari's room where the latter was going to deliver a CRASH COURSE for TAFL. I agreed for consensual sex with TAFL rather than getting raped by the detested subject (Again, I know that's a nice way to say I agreed to learn TAFL reluctantly). In some 2 hours from 8.30 to 10.30, I gobbled up a lot of TAFL served by Goghari and the repercussion was indigestion. I wrote some nonsense in paper (except the Pigeonhole principle, which fetched me ONE FULL MARK without any hitch). The nonsense fetched me a deplorable 12 on 36. With this I realized, the 3 internals with TAFL are going to be the worst one's ever and the 12 on 36 was just the 1st amongst the equals.
Crying Wolf:
I'd fetched a skimpy 12 on 36 in TAFL in the first sessional which was lower than the scores in other subjects which usually a 7.someone like me gets. This has raised an alarm for me, I reckoned that TAFL was definitely EG's kin and I shall begin lamenting for the unwanted blood relation between the two. I started telling everyone about my prejudice for TAFL, how bad it was and how I was struggling with it when I wasn't actually. I made no efforts to rise from ashes (How heroic a sentence could be, you see!). I created all sort of zilch hype about TAFL and I wanted everyone to abuse the subject just because I didn't like it. Everyone else in the class seemed comfortable mugging the circles of automata and those a's, b's, 0's and 1's inside their circumference but I couldn't do the popular engineering ritual and hence I sinned in the exams. My FB and WhatsApp status would be "I Hate TAFL" and of the kind. Within a month's time TAFL's terror reached some hundreds in my contacts to cite the minimum effect of my propaganda to defame TAFL. I cried wolf for a month till 2nd sessionals – the time when most people in my list wished me luck for TAFL's 2nd sessional.
2nd installment of misery:
After a bad blow from TAFL, I was apparently sincere during the 2nd sessional. I attended ALL the lectures and paid attention in the classroom too (I hope you've read the ALL in caps with sufficient emphasis). Not only that, I also practiced a sum or two before the exam week. And I relentlessly went on to fill a longbook just practicing minimizing Finite Automata, converting NFA to DFA and the Pumping Lemma (which I never understood). To show my utter reverence towards the hostility of TAFL, I shifted to Nadiad for a Night – the one before TAFL's exam so that I don't waste time in commuting from Nadiad to Ahmedabad. Raichura's room was auspicious for me as I'd cracked CO (Computer Organization) in 5th semester in a similar fashion.  I practiced and practiced and I looked poised before the exam, but little did I know about loss of tranquility that was just counting 1 hour and 15 minutes. 2nd sessional- easiest paper ever all said, I too felt when the supervisor handed it over. But then, I messed up badly. The post-exam expert discussions that happen outside the class in which laureates of DDU participate with great gusto validating how correct their answers were, declared that I had goofed up badly in an EASY PAPER. The marks were out and I got an even disgraceful 9 on 36 in the 2nd sessional… Now, all the tension REALLY mounted up, the ball was completely my court. I now faced a do or die situation for making up to the SAFE mark in just one last sessional left to avoid REM (backlog/KT as popularly known amongst the engineering 'afflicted').
The upsurge:
I was in sheer melancholy then (yeah, an overstatement… just to create the effect). In the first lecture that followed the disaster, I asked MSB Sir, "Sir, I've just messed up in the first 2, how easy or difficult is the 3rd one?" He replied, "Well, if you know, we teach simple things like counting, addition, subtraction first and then difficult things like multiplication and division. So, whatever we've learnt so far was just basic, third sessional is definitely not easy. See if you can pay attention and work hard." I understood! Things were not going to be easy! It was a do or die situation, I didn't have much to lose. I started going to college early. My schedule would start at 10.45, but I would reach the college at 8.30 and read the text. (Astounding, but true!). I also asked some of my friends in IT to help me out with a topic or two. They did! I would study at home too, about the not so easy topics – Turing Machines, Stacks/Pushdown Automata and stuff. I'd lost hope, but I had always been taught to continue swimming even at the lowest depths in the expanse of deepest waters. I did!
I again lodged at Raichura's room a day before TAFL's 3rd sessional. My total so far was 21. I need to surge it up to 36- the safe mark (people in college however rumored a 45, but as I was a 'well-informed' prisoner of DDU Central Jail, I knew the correct rules and regulations). 15 in the 3rd sessional is what I needed. However, looking at my haunting past (a 12 and a 9), the task seemed pretty daunting. However, I practiced a lot (which implies mugging for the engineering 'afflicted'). I draw each Turing Machine in the text as many as 8 to 10 times. I practiced each Pushdown Automata equally. By the 10th time, I felt I was actually understanding and could manage making a custom one if dared by the paper setter. And it was 2nd April, 2013 – TAFL's 3rd sessional, a day before my birthday! I couldn't have asked for a better birthday eve! I took it positively and poured all my mettle in the paper. And what resulted was a 20 on 36! Yes! I had crossed the safe mark, God signaled "Yes, I want you to pass" and I'd got it then…
Last nail in TAFL's coffin:
If you're famished and you've to dream, then why dream of salt and dry bread? Why not imagine a soft, buttered bread with a hundred year old wine? I'd crossed the safe mark in sessional exams. My total counted a 41. We've a 60 mark paper in external exam, you evade a dual with the subject on a 24. We'd reading parole of 15 days before the FINAL EXAMS. The destiny had favored me by putting a holiday in the timetable before TAFL's exam. Abiding by each year's traits I made a lot of plans to study in these 15 days and again abiding by the traits I studied NOTHING. All I did in these 15 days was – practicing to convert a NFA to DFA (just a small part of 9-chapters long TAFL syllabus). Once again, owing to my blatancy towards academics, I appeared in exams condomless (unprepared sounds too clichéd to use it here…). I appeared for the first 4 exams (which included a horrible paper of Computer Networks) with great gusto. Then came TAFL! I'd decided, I would not leave any stone unturned. I followed the buttered bread and wine analogy too religiously and aimed for a 60 on 60. Prepared with similar zest. I wrote everything in the notebook and practiced. I went on and on for 2 days. I did all the things I had evaded in the sessional exams. I went on writing stuff again and again in those 2 days before TAFL's exam. I was frustrated, but I didn't want to stop. I wanted to remove my frustration out! I didn't want the frustration to reflect in the paper as it would harm my ownself. Instead I decided to settle scores with TAFL while practicing only. During the 3rd or 4th revision in the book, I started writing "Last Nail in TAFL's Coffin" on each page before starting the topic. Below is are a few pics: (I had preserved the notebook for this very day, when I would want to shout to the world that I'd tamed TAFL)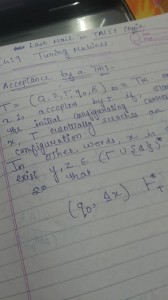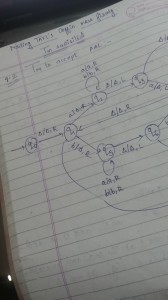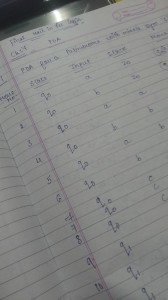 Raichura drove me to Santram Deri a day before the exam. I'd a lot of faith in that place tracing back to my experience with CO where the shrine had worked miracle for me. I prayed again to help me swim the pacific. The D-Day finally arrived- 21st April, 2013 – TAFL's external exam. My heart pumped a lot before appearing for the exam. The supervisor handed over the question paper. My eyes scanned it for some familiar and favorable things. Before beginning I calculated if I could manage to pass and the initial calculation returned POSITIVE. I started scribbling. And there I saw a question of converting a NFA to DFA in the end of Section-1. It seemed quite simple apparently, seemed to be one which found a place in the paper so that morons like me could sail through easily. I guided it to the end and proceeded with Section-2 which seemed tougher. I attempted the max I could. If bluffing can fetch you marks, why shy away?
I finished the paper in about 2 hours and 15 minutes. I started parsing it again for searching any marks which I had left unpicked. Every time I parsed, the NFA-DFA question was inviting unusual attention from me. I checked it multiple times but found no errors in what I had already written. It was 2 hours 50 minutes, just 10 minutes before paper collection and I was again with the NFA-DFA question and I realized that I had left a common state ungrouped which was so evident from the question itself! I immediately redrew it! I had passed the acid test, upon confirmation from a professor I found that the question was purposely tricked and what I did was correct! I jumped in joy then! All what I was waiting then for was RESULTS!
Yay! I finally TAMED TAFL
24th May, 2013 – the Result Day. All around me knew I was dreading TAFL the most! But the unexpected happened! The result showed the highest in my score in TAFL – A 43 on 60! I shouted a loud – "Yes TAFL! I did it! A subject in which I managed to score a bare 41 in 3 sessional exams, was now MINE with a 43 on 60 in just one single exam for which I had to prepare full curriculum. I couldn't have asked for more. It was a happy ending. I felt like a hero who had defeated the villain in the end! Hardwork is secondary, I'd a lot of prayers from my parents, the high court, my friends and just so many living and non-living entities that did the impossible for me. I had finally overcome TAFL's Terror (Purvil had suggested this as the title of blog post. I'd have been glad to put it had I flunked. But no, I fucked TAFL!)
TAFL is no more a trepidation to me today! Yes, I hate it as much as I did before. I'm in 7th semester of engineering today. We've a subject – Language Processor with not few but many elements of TAFL in it. But no, I am not scared. I've swum in the floods, dark clouds don't petrify me any more.